Handbags are just like the cherry on a cake. They are the final touch to any ensemble, which can make or break your look. With the summer season upon us, we have selected some of the trendiest pieces you can take with you on your many travels.
These bags are not the bags you will be packing all of your belongings in, but rather the easily packable, elegant accessory to have in your suitcase.
What makes the perfect travel handbag? One which is compact, versatile and most importantly, fun! These pieces are a stylish addition to your holiday outfits–ensuring you carry something special with you from departure to arrival. 
Medium Amu White by Pipatchara
With enough space to carry your lipstick, phone and sunglasses, this medium-sized Amu bag is the perfect travel companion. Hand-knotting makes this leather bag a luxurious and elegant accessory for your casual holiday outfits. It can be worn as a crossbody, on the shoulder or handheld, which gets a rating of 10/10 for versatility from us. Choose from a variety of seasonal or classic shades and you are set for your day (or night) out on the town.
This Bolsito bag from Laia Alen is the drawstring bag, just elevated. As the bag can be packed completely flat, there is plenty room in your suitcase for one or two of these beauties. 
For those looking for a glamorous piece which doesn't get in the way of all the travelling activities, this is the bag for you. With an array of textures, colours and prints to choose from, this is a practical but statement piece.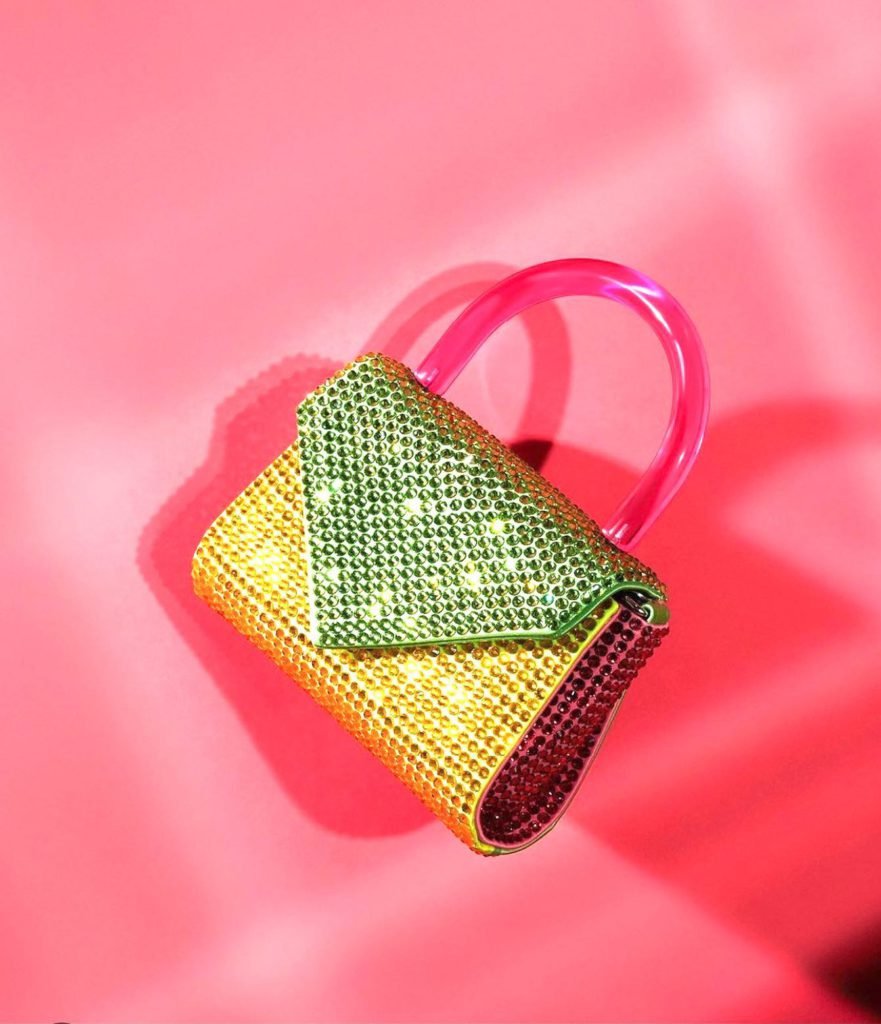 It's small, but packs a punch- the Gedebe Cookie. This multi-coloured satin and crystal pavé combination is luxurious and vibrant. Worn across the body or handheld, it is versatile in nature and can effortlessly add something special to your look.
Mini Dida Lima by Studio Reco
How dainty is this mini Dida Lima bag from Studio Reco? It is the ideal elegant cutesy piece to put you in that carefree, joyous holiday mood. With many bright colours to choose from, it adds a pop of colour to any monotone look. Worn cross-body or over the shoulder, it is a travel staple. 
L'alingi Pixie Dust Eternity
This stone-encrusted glittering clutch is a small piece of luxury which can be packed away in your travel case. Swarovski stones and white glitter make this a show stopping accessory to wear out to dinner in your full glam or dress up any casual outfit. Small and compact, take this exquisite piece with you on your trip to the South of France for a dazzling summer attire.
This viscose Nino bag from 0711 is a warm and comforting piece to carry. It's daffodil yellow colour is sure to put you in that fresh summer mood. Carried in hand or worn over the shoulder, this is a delectable addition to your holiday range. Pair this lemon-shade accessory with a little floral minidress for ultimate style. With a soft and silky feel, it is the must-have lightweight accessory.
We are living for this Ava bag at the moment moment. This fashion-forward piece is available in a vibrant purple, ivory, green and blue. We love how conveniently this can be thrown over the shoulder with your little black dress or carried anywhere on holiday as it has ample space for your phone, keys and passport.  Simply sophisticated and elegant, this can elevate your wardrobe to travel chic.  
This Vanina bag is all about flower power. It is easy to travel with and pack in your suitcase due to its convenient size. Full of life and vibrancy, this piece can add an element of fun luxury to your travel wardrobe. Carried as a shoulder bag, it is the perfect dressy accessory to take with you.
This Alder Mini bag from Pannyy are for those travellers that want to chuck everything in their bag and go. Worn as a backpack, or handheld, it is the perfect travel accessory. The interesting strap detail in the front adds a luxurious charm to any outfit.
If you are a woman on the move, and looking for a handbag to go with you everywhere, this is the bag for you. Ultra-light, sleek and compact. This multi-bag from IURI can fit all of your necessities and can be worn comfortably across the body. It can be worn as a travel accessory or a stylish addition to your evening look.
Written by Antigua Rose Koekemoer 
All images courtesy of the brands featured. 
For more fashion finds like this, visit our journal page. Follow us on Instagram to say updated on the best of European summer fashion.