In 2019, the modern luxury label Talel was established. Using a nimble aesthetic and an emphasis on unconventional and structured designs, Talel's leather handbags and accessories are thoughtfully crafted with sustainability in mind. Its products are designed in Paris and manufactured in Italy using only the finest materials and techniques. In keeping with its ethos, Talel creates products in smaller quantities that are unisex and can be worn with any ensemble.
Its bright, vivid patterns are meant to match the personalities of people who like the same kind of risk-taking and originality. It's a label that specialises in purses and tiny leather products, emphasising clean, geometric shapes and a modern aesthetic with a dash of urban cool. 
The sleek calfskin bags are envisioned in simplified forms, while the logo is minimal but eye-catching. The androgynous shapes ensure that goods remain classic and sophisticated; they are suitable for both day and evening wear. When you wear Talel, you make an impact without effort.
Each tote may be styled as a show-stopping accessory or toned down to serve as a subtle geometric background. Both Rania Fawaz and Ola Farahat, prominent women in Dubai, have been seen carrying bags by the brand.
Talel's aesthetic emphasises brilliant, candy-like hues which grab and hold your attention. And their unique, sharp design ensures your bag will stand out of a crowd.
All bags come with a longer shoulder strap that can be detached for further versatility. Keeping up with environmental and social initiatives, the manufacturing factory is audited annually to verify that workers get fair salaries and working conditions, and the factory's annual carbon footprint is assessed with measures being taken to lessen it
More than 10 years of founder Lelia Roukni's expertise in the leather products sector were gained in Paris. She has managed the leather bag departments at major fashion houses including Isabel Marant and Saint Laurent. When Leila realised she would have to do the same thing repeatedly, she decided to start her own company so she could have more control over her schedule and be more creative in her work.
Produced in small batches and tailored to the needs of city dwellers, Talel is propelled by an unquenchable need for independence and is at the disposal of a generation determined to shake up the status quo. The French-born designers' spouse is called Talel, which means "joyful" in Arabic and is also the name of their accessories line.
Its bright, vivid patterns are meant to match the personalities of people who like the same kind of risk-taking and originality. The designer draws her colour palette and inspiration from her home Morocco as well as her travels across the world.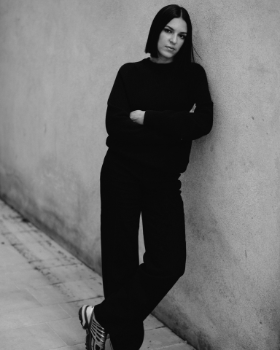 Written By Ravan Clowers 
All images are courtesy of Talel.
To know more designers in Paris, visit our city page. Follow AiSPi on Instagram to find the best fashion inspiration.