A statement bag is an accessory that fascinates styling explorers. But combining everyday functionality with impressive design is often a challenge for designers. Istanbul- based accessories label, Mlouye has managed to find the golden spot. They create inspired bags that are made to serve women on the daily.
An Mlouye bag will never be out of style or be missed by the keen eyes of fashionistas. Their designs, influenced by several artistic and architectural movements, provide a timeless elegance. The brand has now incorporated a shoe collection as well, following the same methodological philosophy.
The brand founder's industrial design background is mirrored in her collections where symmetry, geometry and colour come to interplay.  
A design that stunned us is the Bo Ivy bag, that carries effects of the Art Deco movement and constitutes a majorly chic choice for a dinner date.
The brand creates versatile products that serve many functions. Business bags are a big hit amongst professionals, featuring a size that allows for laptop and portable workload to be carried in style and colour. 
All pieces are designed using high-quality raw materials, never compromising on craftsmanship. Using Italian leather, the bags are handcrafted by artisans. Mlouye is a proponent of "quality over quantity" meaning buy one good bag that will be timelessly stylish and serve you for years.
Their newest footwear collection shares the same features–an emphasis on architectural design merging with functionality and comfort. 
For minimalists, they provide options in a nude sandal or boot for winters. Experiment with funkier versions that add a splash of colour on your feet, elevating even the most basic black dress.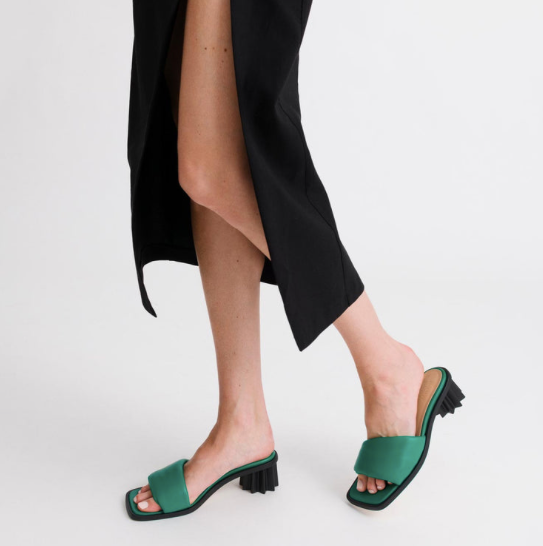 Meb Rure is the creative persona behind Mlouye. After working in industrial design, she decided to create her own bag label which was established in 2015 in Istanbul.
With a background in architectural design, her  professional knowledge has influenced her designs significantly. As she states, Mlouye aims to create bags that merge fashion and design whilst being functional and versatile. The mission is to improve their customer's lives in simple yet important ways.
Written by Eleftheria Giannouli
All photos are courtesy of Mlouye.
Spy with us on other European fashion through our designer page. Follow AiSPi on Instagram.