Let us paint you a picture: you have a drink in your hand while you relax by the hotel pool, your significant other by your side for some guilt-free fun without the kids. Now that's what we call a romantic getaway! There's something really special about travelling with someone you're head-over-heels for. 
And AiSPi's founder and professional jetsetter Aisha Saraf Kothari agrees. "A romantic getaway is a great way to get to know your partner and spend some quality time together." From cosy chalets of St. Moritz to the crystal-blue waters of Ravello, Aisha shares her favourite getaways for a love-filled holiday. 
There was once a time when holidaymakers would flee St. Moritz due to snowfall, but now? We just can't get enough! The Alpine town is one of the greatest ski resorts to date–and arguably Switzerland's most popular romantic getaway destination. 
"Ski, snow, and glamour–there's something so romantic about vacationing at this resort," says Aisha. This winter wonderland is the perfect combination of exclusivity, style, and adventure sports. "You can enjoy open-air skating for a dusting of romance, then bundle up together in your cosy room at the grand Badrutt Palace. When skiing, don't forget to make a pitstop at Salastrains for some delicious cuisine." 
Our resident traveller also recommends you watch the sunset from the sun terrace of the Chesa Veglia if you're staying at Badrutt's Palace Hotel. "It will change your life," she says.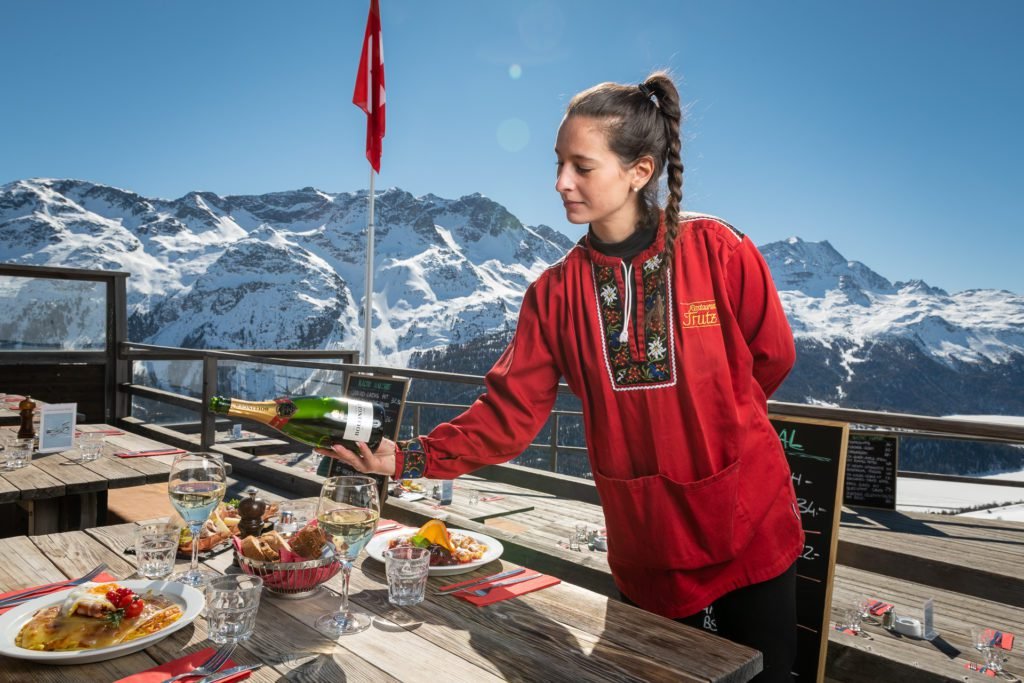 The Suvretta House has a ski-in and ski-out hotel with a private ski lift. "You can make some unforgettable moments here. Stay for dinner prepared by their Executive Chef Fabrizio Zanetti and take in the views of the Engadine." 
"For some traditional alpine classics with a twist, stop by Paradiso Mountain Club & Restaurant. Sample their expansive food and bar menu which includes 500 different wines!"
Located in the region of Campania, this idyllic mountaintop oasis is nestled within the picturesque Amalfi Coast. "It's the most gorgeous hilltop summer destination for some one-on-one time with a view." 
With cliffs reaching over three hundred metres, you are guaranteed a stunning view of the Mediterranean that will take your breath away. The perfect scene for those Instagrammable couple photographs! 
"Soak up the sun at the Villa Cimbrone's beautiful gardens," recommends Aisha. This quaint little paradise will allow you to wander around carefree, enjoy luxurious dinners, and make some precious memories together. "The best place to stay here is the Villa Rufolo. The views from the hotel are simply breathtaking." 
This historic city of Florence has retained its ancient architecture with a twist. The addition of 30,000 twinkling lights throughout the cobbled streets are perfect for romantic walks. "It's such a romantic city," proclaims Aisha. "As its home to Renaissance art and architecture, romance is literally built into the landscape." 
For those who want a side of style, visit the Gucci Gardens where culture, great cuisine, and shopping come together to form a luxurious hybrid. From its fine art museums to the Brunelleschi Dome, the masterpieces found within this enhancing city speak of grandeur and craftsmanship. "The delicious cuisine, Italian desserts and fantastic wine–all hint towards an unforgettable dinner date." 
"This luxurious resort in Switzerland is located along a scenic mountain ridge and showcases an unobstructed view of the Swiss Alps and Lake Lucerne." It is nestled within the dense mountain woodlands overlooking the waters–making the palace's views simply unparalleled. 
The resort's exquisite interiors complement the building's sophisticated Art Nouveau architecture. "This place is really special to me," says Aisha. "I was there when I was pregnant, and it completely won me over. It has to be the most stunning hotels in Switzerland. 
Bürgenstock's combines rich heritage and contemporary design which attracts international guests. Remaining true to the timeless traditions of discrete Swiss hospitality, you can expect the best quality care during your stay. 
Schloss Bensberg is a historic hunting lodge that exudes luxury through its baroque aesthetic and pristine grounds. "It's in Germany–and like everything German, it's very majestic." Overlooking the bay of Cologne, their beautiful scenery forms the perfect backdrop to celebrations and events.
"The castle is absolutely wonderful–the architecture is modern, the location beautiful and you'll find many reasons to fall in love here." Indulge in an opulent Champagne Brunch at Restaurant Jan Wellem–their dishes are synonymous with the surroundings, simply too pretty to eat. 
"Vendôme promises one of the best Michelin-star meal in the country," says Aisha. The menu is composed by Joachim Wissler who transfer his love for fresh ingredients into each of his dishes.  
Written by Sophie Corbett
All images are responsibly sourced or courtesy of their respective places. 
Find fashion inspiration for your next getaway through our journal. For more updates, follow AiSPi on Instagram!